Comment:
Stayed 3 nights here. Quiet and peaceful at night. Lots of places to camp and spread out. Extremely windy though, gusts over 30mph.
Drove the sketchier road in my short skoolie and didn't like it. A big dip that's hard to climb back out of, plus large stone slabs in the middle of the road. The road that continues straight after the cattle guard felt much safer.
Strong AT&T phone signal, 2-3 bars LTE.
Gorgeous views, but sadly lots of toilet paper and even human feces around. Lots of trash dumping and broken bottles too. Did what I could to clean up trash I found.
Blog: christina.m.hadly
Place: Beas Lewis Flat Road. BLM
Visited: October 19th, 2019
Location: 38.29764, -111.38986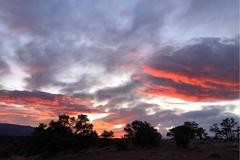 Uploaded Images:
Back