Comment:
Gorgeous location and mostly quiet (more below).
Access easy. 4wd no issues. 2wd may have a few slow and easy moments.
Stayed 1 night. Unstructured Fire pits are nice, especially as it got down to 20 overnight.
Overlanders keep this place clean.. no trash coming in.
A few people plinking away with weapons until sunset but they were miles away. Freight trains were constant all night but extremely distant.
Gorgeous sunset!!
Was awoken at around 2am by a small group of locals partying around the bend (earlier in the trail). They were harmless and left after about 2 hours.
Very disappointed to see all of the trash they left strewn about and the fire that they'd failed to extinguish properly as we departed in the morning.
Blog: david
Place: 180 Little Colorado River
Visited:
Location: 34.84153, -110.06375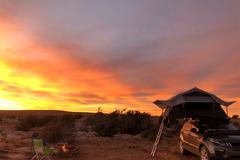 Uploaded Images:
Back