Comment:
They are closed for the season but when I phoned Sheila said I could use the sani dump and fresh potable water for $5. Not the most convenient set up but it was very appreciated since every other campsite we tried was closed for the season and no sani dump available.
I would live to come back for a boat tour in season!
Sheila was super nice as well.
Blog: randysharong
Place: Bird Island Boat tour
Visited: October 18th, 2021
Location: 46.28327, -60.41876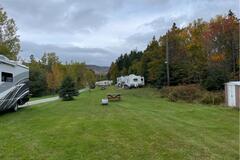 Uploaded Images:
Back