Comment:
Platform next to a waterhole. One is allowed to sleep on the platform. 2 flushing Toilets and 1 shower with running water. No Electricity. No Econet Cellphone Signal. Pure National Park Feeling - wildlife at its best !
Paid Entry Fee 6 $, car fee 10 $ and camping 16 $ (incl. discount)
Booked at Robins Camp where swiping is not possible. Only cash.
Blog: instagram.com/mypinkbumper
Place: Guvalava Platform
Visited: October 1st, 2017
Location: -18.82951, 26.74066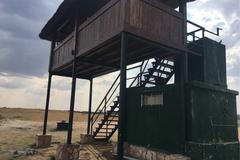 Uploaded Images:
Back